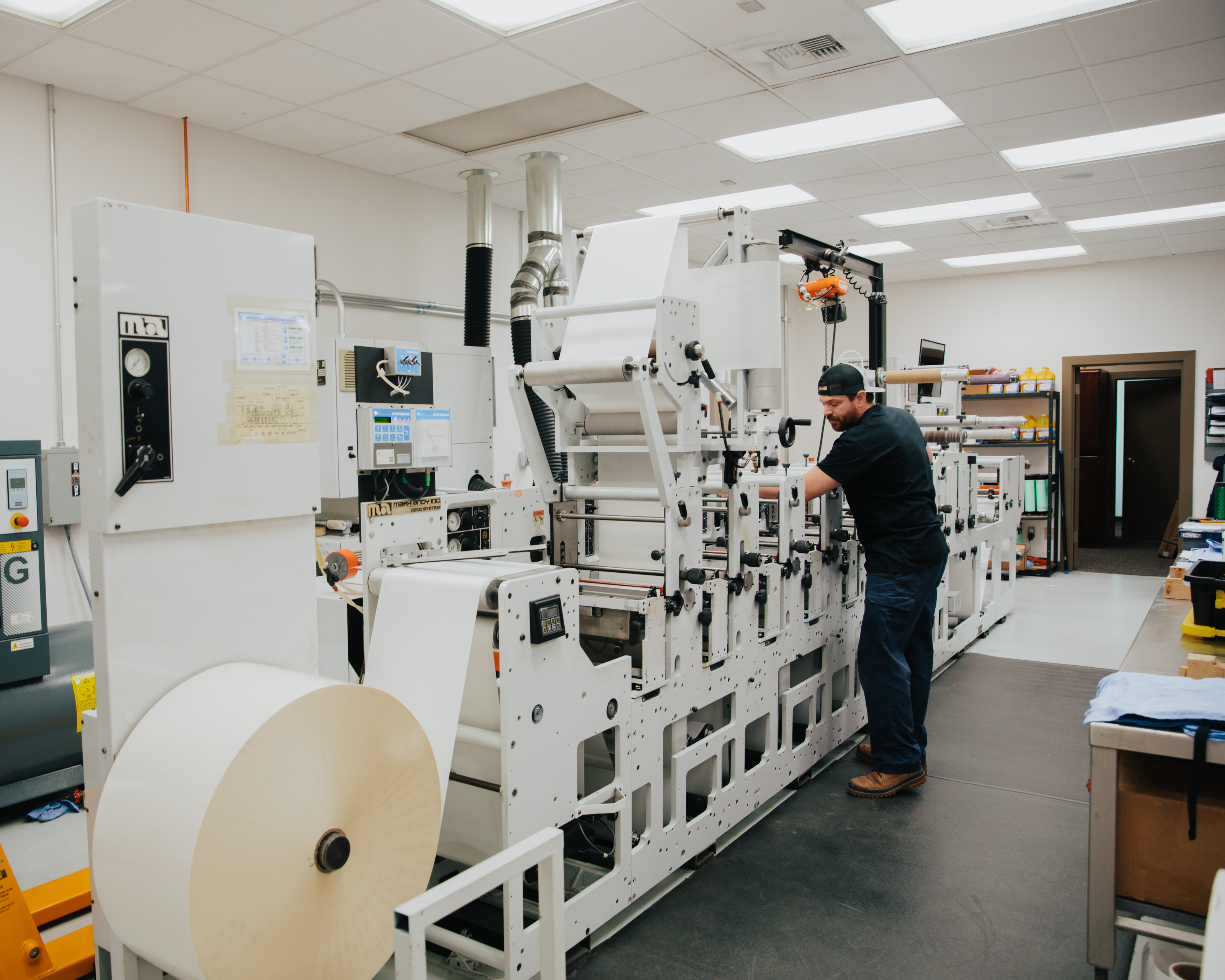 Photo: Dave Roberts - Pressman
About Yakima Label
The new partnership Yakima Label is now the only locally-owned, vertically-integrated label supplier of its kind. Focused on agriculture and other related industries, the new company is comprised of the label division of Agjet and the label division of Print Guys, Inc.
Yakima Label is an undertaking by Josh Wesselius, Agjet's Vice President of Sales, and Dave Ackerman, owner of Print Guys, Inc. The two now serve as co-owners for the new business, in addition to Josh fulfilling the role of Yakima Label's Sales Manager and Dave serving as Production Manager.
With Josh's experience providing labels and tags for the fruit industry and Dave's extensive background in print production, Yakima Label brings more than 30 years of expertise to their clients. Both Agjet and Print Guys, Inc. share a focus on customer service and delivering high quality products and solutions, something the new partnership will continue to provide.
Both business owners grew up in the area and share an excitement for what Yakima Label will be able to provide their clientele. "Currently labels like these come from places like the Seattle area, California or the Midwest," explained Josh. "With the new company, we will be printing and converting the labels right here in Yakima."
Print Guys, Inc. will maintain current operations from both of their locations in Yakima and Wenatchee. Yakima Label will start its operation out of the Print Guys, Inc. site at 101 North 3rd Avenue while it looks for a new home to house all of its production and inventory.
"It has been a true pleasure and Blessing to be able to serve Central Washington for over 22 years now through the Print Guys, Inc., and I look forward to strengthening those business partnerships through our products and services we provide through Yakima Label, LLC." – Dave Ackerman
About Print Guys, Inc. – Founded in 1999, Print Guys, Inc. offers a wide range of services to meet the printing needs of their customers. In 2004, Print Guys, Inc. purchased the printing division of Shields Bag and Printing and later expanded in 2006 by opening a second location in Wenatchee, Washington. For more than two decades, the company has upheld a standard of excellence throughout their printed materials, from business cards, brochures, graphic design, mailings and much more. At Print Guys, Inc. the focus has always been to deliver the highest quality printing with the best customer service at competitive prices.